Foundations of Yoga
Yoga Teacher Training at Adapted Yoga and Pilates
Yoga Teacher Training  Programme Module
A 6 week module that encompasses the broad foundations of Yoga- History, philosophy, ethics, methodologies of yoga including meditation, pranayama, Yoga nidra, Asana and the basics of anatomy and physiology from both a Yoga and western sports science perspective.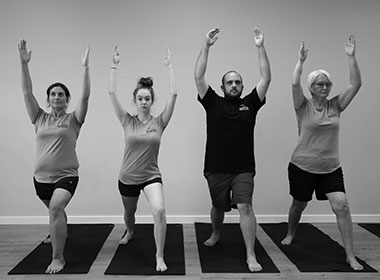 About this programme module
We have broken this module into 3 main cornerstones that you can do together or individually:
Philosophy of Yoga
This is covered in 6, weekly 2 hr online group sessions live with supporting resources.
Learn about the origins, history, meaning of and philosophy of Yoga.
Learn about the different types of Yoga
Learn about the some of the important texts in Yoga
Anatomy, physiology and subtle body
This is covered in 6, weekly 2hr online group sessions live with supporting resources.
Learn about the basics of Ayurvedic anatomy, nutrition and body composition
Learn about chakras, vayus, koshas, nadis, and gunas
Learn about the structure of the body as a whole and each of our body systems and how they integrate.
Learn about basic biomechanics
Methodologies of Yoga- Asana, meditation and pranayama
This is covered in 6, 6hr duration face to face sessions on a weekend day.
Learn about different forms and benefits of meditation
Learn about different forms and benefits of chanting
Learn about different forms and benefits of pranayama
Learn about different types of common asana (physical poses), how they can be performed, their benefits, variations, and more
This (these) modules are suitable for:
Anyone that wants to complete their 200RYT qualification- this is the first stage of training.
Anyone that is interested and wants to further their knowledge as to what Yoga is.
What do you need to be able to complete this module?
A good base of current practice in Yoga Asana (the physical poses) (for methodology)
A commitment to learning more about yourself as well as about Yoga
An openness to the different ideas that learning Yoga further will bring
To be available to all of the sessions – there is a huge value in group learning and participation and this is why this is a large component of the training.
To practice what you learn, so you have complimentary access to Adapted studio and online classes.
What you do not need?
To be the best, most flexible, strongest person – as we adapt our methodologies to suit the participant, as long has you have experience a high level of physical ability is not required
To be book smart- different learning styles are supported so learning is presented in written, verbal, hands on and recorded format.
Any flash gear- we provide all of the equipment and learning materials required.
We welcome expressions of interest and applications. Entry to the program is based on the maturity and committed-ness of the prospective student; it is not open on a first come first serve basis.
Next start date: 31st May 2021
What our students have to say
"Adapted provide a great teacher training program. Experienced teachers that support you throughout the whole journey. A comprehensive mix of philosophy and physical learning to help you feel fully prepared and confident as a new teacher."
"I have gained so much from my Adapted Yoga and Pilates yoga teacher; personally and professionally. Thank you to Rebecca and Tilak. "
"Tilak is a very good teacher trainer. He has decades of hands on experience, he has a deep understanding of the human body, mind and soul. He is patient and always has time to help where he can. It was a privilege to train under him. I enjoyed the training. It was life changing. I learned all I need to start my journey as a yoga teacher. "